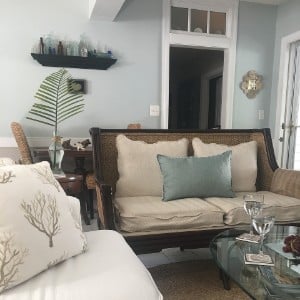 Rich and I owners/Innkeepers of Barclay Cottage Bed & Breakfast, are native to the area and love all things that have to do with the coast and ocean as well as historic places. Our beautiful historic Barclay Cottage Bed & Breakfast (circa 1895) is located just two blocks from the ocean front.
Our idea is to give our historic beach cottage a coastal vibe. This transition is ongoing and the outcome has been exciting and is working out just as we had hoped it would. We (ok not 'we' Rich & Hunter, our son) have painted with coastal inspired colors. The most requested paint color from our guest is Woodlawn Sterling Blue, used both in our Great Room and The Wynnhaven, guest say because of the calming effect. We added lots of seagrass and wicker, mixed it with antiques. We have strategically placed some of our treasures, fulgurite, fossilized shells and of course lots of "real" seaglass that we have collected through the years.
We are all about how a fresh, clean inviting environment can affect our moods improve our well-being and how colors can sooth our emotions. We think we have captured the "Ahhh, just relax place to be". We are loving our new vibe and the guests are too.
So…a new website that reflects us and our new feel was a must!